The Art of Photojournalism
A Show by Indymedia Photographers
December 2, 2004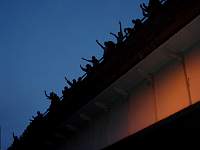 A Small Victory
Anti-war protesters celebrate as they temporarily take control of an off-ramp from the San Francisco Bay Bridge, just moments after police and protesters clashed in the street directly below, Thursday, March 20, 2003.
Four Indybay photographers, Matt Fitt, Charles Slay, Eric Wagner (the main photographer for Basetree) and Peter Maiden, will be showing a collection of photos shot for Indybay at San Francisco's Balazo Gallary.
Come see the photo collection at 2811 Mission St. @ 24th between December 27, 2004 and January, 12, 2005. You can also come to the closing party, with music by Rum and Rebellion, on Friday, January 7.