Stop this Damn War Now!
Yet another anniversary of a war that shouldn't have started
March 18, 2006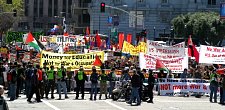 Many
The crowd gathers at Civic Center.
Just two days before the third anniversary of the start of the Iraq war people take to the streets of San Francisco and around the world to protest the continuing war.
Here are photos from the San Francisco march:
Errr OK
(...not sure what this means.)


Idiot
(Where did this guy come from?)

>> more photos <<


This work is licensed under a Creative Commons License.