Featured Story:
J20 - Occupy Wall Street West #OccupySF #OWS
January 20, 2012
Photos from the Occupy Wall Street West J20 actions and marches.
Behind police lines after 12/7/2011 #SFPD raid on #OccupySF #OWS
December 7, 2011
I was able to get behind the #SFPD police lines to take some photos of the aftermath of the raid on #OccupySF. Most of the encampment had been dismantled and it was very quiet except for a garbage truck being used to crush #OccupySF belongings. I took as many photos as I could until I was forced to leave.
Repeal Prop 8!
Thousands March Through San Francisco
November 7, 2008
Archive of live mobile broadcast:
Click "Shows" to see more
Pride 2008
Videos from the 2008 San Francisco LGBT Pride Parade
June 29, 2008
Pride 2007
Photos from the 2007 San Francisco LGBT Pride Parade
June 24, 2007

Friends of The Pink Triangle 2007
The Annual Installation and Commemoration Ceremony
June 23, 2007
Early on a Saturday morning, the day before the annual San Francisco LGBT Pride Parade, Friends of the Pink Triangle install the giant pink triangle on a hilltop that will overlook the parade route.
After the installation, a commemoration ceremony is held -- and then it's time to celebrate!

Goodbye, Dad
David Wagner: 1938 - 2007
May 15, 2007
In a New England forest during autumn, under a tree that's just lost its leaves, my dad and I are talking politics and philosophy. Discussing politics with family members has become emotionally and socially risky in these times -- but, between him (a former Planned Parenthood executive) and me, politics is one of the safe topics of conversation, and no argument ensues. While sifting ideas on what to do about George W. Bush and how to protect a women's right to choose -- (yes, this really is what we talk about) -- light washes over us from the sun low in the horizon (is it rising? setting? I don't know) and, for a moment, I turn away.
It is in this moment that he jumps into the lowest branches of the tree, and the sunlight upon him has turned golden red. He smiles and gives me a wink. A mild gust buffets the branches. Ever the photography enthusiast, I'm thinking that this would make a great picture. I reach for my camera, but all I have is a little candy bar cell phone, and each time I try to take a picture, I only catch a blur as he deftly climbs higher into the tree.
Soon Dad is perched in the highest branches of the tree. He waves at me and I wave back. He looks up at the clouds, now gray-blue and salmon colored, and starts to float upward. Branches snag his legs and hold him tenuously, as a tree holds a fruit about to fall, but they soon let go, and he is free.
He lofts upward from the forest and I catch glimpses of other people with him, spirits dancing with my dad.
Distracted by the sun glinting off the rustling trees, I lose sight of him.
"Goodbye, Dad," I say. Goodbye.
***
When I was a child, I had small, cheap Instamatic camera (my first camera), and as in the dream above, capturing what I saw was an elusive process. Nonetheless, I did have some early photographic success. Here are some snapshots of my dad, two of which I'd shot with the Instamatic:
Dad
(another of my early photos)

The Peace Majority: Troops Home Now!
Protesters Tell the New Congress to Listen to the Will of the People
January 27, 2007
Protesters across the country sent a message to the new U.S. Congress today: The people want the war to end.

Here are photos from the San Francisco protest and march:

Roe v. Wade: We Won't Go Back!
Confronting the Anti-Choice Zealots
January 20, 2007
| | |
| --- | --- |
| | SAN FRANISCO - Just days before the 34 anniversary of Roe v. Wade, pro-choice activists confront anti-choice participants in the so-called Walk for Life. |
| | |

Beach Impeach
Flash Mob Forms Giant Impeach Sign on San Francisco Beach
January 6, 2007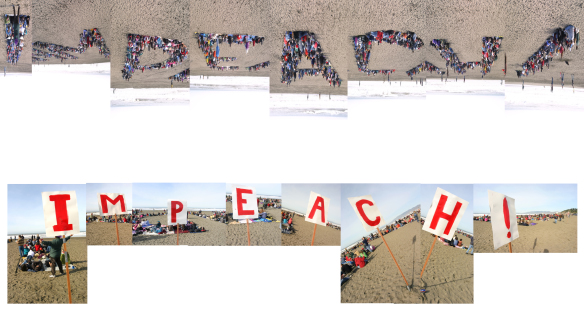 Composite photo

The World Can't Wait!
Thousands March Against the Bush Regime
October 5, 2006
Gathered at noon, in a cold mist of rain Daniel Ellsberg, of Pentagon Papers fame, quoting Thomas Paine spoke to the crowd gathered in San Francisco's Justin Herman Plaza: "Tyranny, like hell, is not easily conquered; yet we have this consolation with us, that the harder the conflict, the more glorious the triumph."
Just after one the crowd started marching down Market street and continued on to the San Francisco Federal Building. Here are photos from the march.

Pride 2006
Photos from the 2006 San Francisco LGBT Pride Parade
June 25, 2006

Outrage Against AT&T
Protest at Building with Secret Spy Room
May 24, 2006
Gathered outside of the onimous and nearly windowless AT&T (formerly SBC) San Francisco central office, and the location of a secret NSA spy room, protesters held signs stating "Honk to Keep the Internet Open" and "Shame on You AT&T."
The protesters chanted "AT&T, you give over information, and now you want discrimination" in reference to both AT&T's handing over phone records to the NSA without a warrant, and AT&T and other telcos support of breaking network neutrality.
[more]

Resisting Military Recruiting
Protesters Shut Down the Oakland Military Recruiting Center
May 15, 2006
Starting with a rally near Oakland's Civic Center, protesters marched down Broadway to 21st street where they blockaded the Oakland Military Recruiting Center -- Pasting signs with statements such as "Resist, don't Enlist" and "Army of None" to the windows of the center.
[more]

We Are All Immigrants
Thousands March in San Francisco
May 1, 2006
Holding signs stating that "we are all immigrants" and "legalización para todos " tens of thousands march down San Francisco's Market Street to citizenship and full rights for immigrants.

End the Genocide in Darfur
5,000 Link Hands Across the Golden Gate Bridge
April 30, 2006
As rallies were held across the United States, 5,000 people linked hands across the Golden Gate Bridge to protest the continuing genocide in Darfur, Sudan, and to push for action by the United States and the international community.
Find out more here.
[more]
Archives
Osama Bin O'Reilly Issues Fatwa
Visual Timeline: Katrina versus Bush
Counter-Recruiting at Wal-Mart
Torturers out of San Francisco!
A 10-Step Guide to Surviving
-- and Fighting -- Bush's America
Jesus and David: Tears for the Lost
October 7, 2004 - The Fascist Starbucks Therapist
The RNC in NYC: The Un-Convention in the Streets
Fahrenheit 9/11: Opening Night
Dubya's Doodles: The Uncensored Pre-9/11 Memo
Bush and Cheney Marry In San Francisco
Gay Marriage Will Allow Incest and Other Idiocies
Bill O'Reilly: Closet Leftist?
Fox News' Bill O'Reilly Apologizes
March to End The Occupation of Iraq
Lessons I Learned from My Grandfather